Greenhouse
Annuals, Perennials, Groundcovers, Herbs, Water Plants and more...
At Plymouth Nursery you will always find something in bloom. Come in and tantalize your senses with fragrant flowers. Plymouth Nursery is a successful business which will continue to grow throughout more years of excellent service.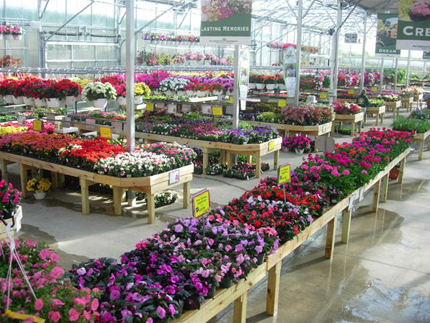 We observe and properly care for our selection of plants until they are hand selected just for you. Plymouth Nursery is always striving to offer the best quality plant material and customer service possible. Our friendly and knowledgeable staff is always available to answer your gardening questions. Stop by today!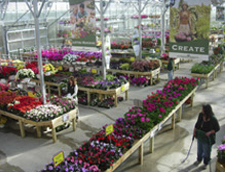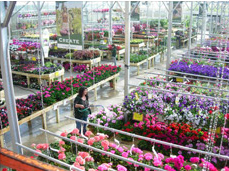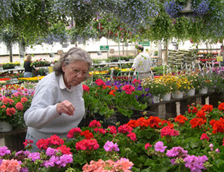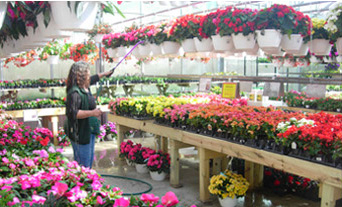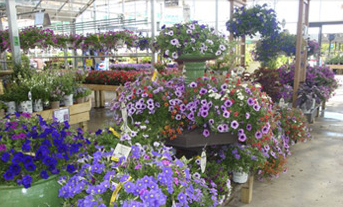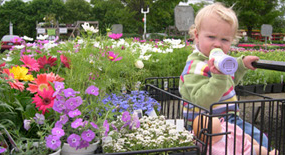 Perennial List
The following is a general list of the perennials we carry. For specific variety names call 734.453.5500. Not all varieties available in all sizes.
Acanthus

Bear's Breeches

Achillea

Yarrow, Sneezewort

Aconitum

Monkshood

Acorus

Sweet Flag

Actinidia

Kiwi Vine

Aegopodium

Snow on the Mountain, Goutweed, Bishop's Weed

Agastache

Anise-Hyssop

Ajuga

Bugleweed

Akebia

Akebia Vine

Alcea

Hollyhock

Alchemilla

Lady's Mantle

Allium

Chives

Alyssum

Saxatile (see Aurinia)

Amsonia

Blue Star Flower

Anemone

Anemone, Windflower,Pasque Flower

Anthemis

Golden Marguerite

Aquilegia

Columbine

Arabis

Rock Cress

Arenaria

Sandwort

Armeria

Sea Pink

Artemisia

Silver Mound, White Sage, Tarragon, Old Woman Sage

Aruncus

Goat's Beard

Asclepias

Butterfly Weed

Aster

Aster, Michaelmas Daisy

Astilbe

Astilbe, False Spirea, Goatsbeard, Feather Flower

Astrantia

Master Wort

Athyrium

Fern

Aubrieta

Rock Cress

Aurinia

Basket of Gold, Gold Dust

Baptisia

False Indigo

Belamcanda

Blackbery Lily

Bellis

English Daisy

Bergenia

Bergenia, Saxifraga

Bletilla

Hardy Ground Orchid

Boltonia

Boltonia

Briza

Quaking Grass

Brunnera

Siberian Bugloss

Calamintha

Calamint

Campanula

Bellflower, Harebell, Cup and Saucer

Catananche

Cupid's Dart, Blue Cupidome

Centaurea

Perennial Bachelor Button, Cornflower

Centranthus

Red Valerian or Jupiter's Beard

Cerastium

Snow in Summer

Ceratostigma

Plumbago, Leadwort

Cheiranthus

English Wallflower

Chelone

Turtlehead

Chrysanthemum coccineum or Pyrethrum

Painted Daisy

Chrysanthemum maximum

Shasta Daisy

Chrysanthemum morifloium

Cushion or Hardy Mum

Chrysanthemum parthenium

Feverfew

Cimicifuga

Black Snakeroot, Black Cohosh, Bugbane

Clematis

Clematis

Convallaria

Lily of the Valle

Coreopsis

Coreopsis, Tickseed

Coronilla

Crown Vetch

Corydalis

Corydalis, Yellow Bleeding Heart

Crocosmia

Crocosmia

Cystopteris

Bladder Fern

Darmera

Umbrella Plant/Indian Rhubarb

Delosperma

Hardy Ice Plant

Delphinium

Delphinium, Larkspur

Dianthus

Carnation, Pinks, Sweet William

Dicentra

Bleeding Heart

Digitalis

Foxglove

Doronicum

Leopard's Bane

Dracocephalum

Dragon¹s Head

Dryopteris

Fern

Echinacea

Coneflower, also see Rudbeckia

Echinops

Globe Thistle

Eichurnia

Water Hyacinth

Epimedium

Barrenwort

Eremurus

Foxtail Lily

Eryngium

Rattlesnake Master

Euonymus

Wintercreeper

Eupatorium

Joe Pye Weed

Euphorbia

Cushion Spurge, Myrtle Euphorbia

Fallopia

Variegated Fallopia

Fargesia

Bamboo

Filipendula

Meadowsweet

Fragaria

Strawberry

Gaillardia

Blanket Flower, Fiesta Daisy

Galium

Sweet Woodruff

Gaura

Gaura

Geranium

Cranesbill Geranium

Geum

Geum, Avens, Grecian Rose

Goniolimon

also Limonium-Statice

Gypsophila

Baby's Breath

Hedera

English Ivy

Helenium

Sneezeweed

Helianthemum

Sun-Rose

Heliopsis

False Sunflower

Helleborus

Lenten Rose

Hemerocallis

Daylily

Herniaria

Rupturewort

Heuchera

Coral Bells

Heucherella

Heucherella

Hibiscus

Rose Mallow

Hosta

Plaintain Lily, Funkia

Houttuynia

Houttuynia

Iberis

Candytuft

Incarvillea

Hardy Gloxinia

Iris x Germanica

German Iris

Iris x Kaempferi

Japanese Iris

Iris Pumila

Dwarf Iris

Iris Sibirica

Siberian Iris

Kalimeris

Ghengis Kahn Aster

Knautia

Knautia

Kniphofia

Tritoma, Red Hot Poker Plant

Lamiastrum

Golden Dead Nettle, Yellow Archangel

Lamium

Spotted Dead Nettle

Lathyrus

Perennial Sweet Pea

Lavandula

English Lavender, True Lavender

Leontopodium

Edelweiss

Leucanthemum

Daisy

Lewisia

Sunset Group Lewisia

Liatris

Kansas Gayfeather, Spike

Ligularia

Ragwort

Lilium

Hardy Lily

Limonium

Sea Lavender

Linum

Perennial Flax

Liriope

Lily Turf

Lobelia

Cardinal Flower

Lupinus

Lupine, Bluebonnet

Lychnis

Maltese Cross, Catchfly

Lysimachia

Loosestrife

Lythrum

Purple Loosestrife

Malva

Hollyhock Mallow

Matteuccia

Ostrich Fern

Mazus

Mazus

Mertensia

Virginia Bluebells

Monarda

Bee Balm, Bergamot, Oswego Tea

Myosotis

Forget Me Not

Nepeta

Catmint, Catnip

Nipponanthemum

Nippon Daisy

Nymphaea

Water Lily

Oenothera

Evening Primrose, Sundrop

Onoclea

Sensitive Fern

Opuntia

Prickly Pear Cactus

Origanum

Oregano

Osmunda

Fern

Oxalis

Shamrock

Pachysandra

Japanese Spurge

Paeonia

Peony

Papaver

Poppy

Parthenocissus

Boston Ivy

Penstemon

Beardtongue

Perovskia

Russian Sage

Persicaria

Virginia Tovara

Petasites

Butterbur

Phegopteris

Winged Beech Fern

Phlox, decussata or paniculata

Garden Phlox

Phlox, divaricata

Wild Sweet William

Phlox, maculata

Wild Sweet William

Phlox, paniculata

Tall Phlox, Garden Phlox

Phlox, subulata

Creeping Phlox

Phyllitis

Harts Tongue Fern

Physalis

Chinese Lantern

Physostegia

False Dragonhead

Platycodon

Balloonflower

Plumbago

Leadwort

Polemonium

Jacob's Ladder

Polygonatum

Solomon¹s Seal

Polygonum

Japanese Fleece Flower, Silver Lace Vine

Polystichum

Fern

Pontederia

Pickerel Rush

Potentilla

Cinquefoil, Five Finger

Primula

Primrose

Prunella

Bigflower Selfheal

Pulmonaria

Lungwort, Bethlehem Sage

Pulsatilla

Pasque Flower

Pyrethrum

Painted Daisy

Rheum

Rhubarb

Rodgersia

Rodgersia

Rudbeckia

Black Eyed Susan,Coneflower

Sagina

Irish Moss

Salvia

Sage, Perennial Salvia,

Santolina

Lavender Cotton

Saponaria

Rock Soapwort

Saxifraga

Mossy Saxifrage, Rockfoil

Scabiosa

Pincusion Flower

Sedum

Stonecrop

Sempervivum

Hens And Chicks, Houseleek

Silene

Catchfly

Solidago

Goldenrod

Spartina

Prairie Cordgrass

Stachys

Lambs Ears, Woolly Betony

Statice

Sea Lavender

Stokesia

Stoke's Aster

Stylophorum

Celalndine Poppy

Teucrium

Germander

Thalictrum

Meadow Rue

Thymus

Creeping Thyme, Mother of Thyme

Tiarella

Foamflower

Tradescantia

Virginia Spiderwort

Tricyrtis

Toad lily

Trifolium

Shamrock

Trillium

Trillium

Verbascum

Verbascum

Vernonia

Smooth Ironweed

Veronica

Speedwell

Veronicastrum

Lavender Towers Culver¹s Root

Vinca

Periwinkle, Trailing Myrtle

Viola

Sweet Violet, Tufted Pansy, Blue Marsh

Waldsteinia

Barren Strawberry